Electric Bike 36V 48V 60V 72V 750W-1500W 30A Ebike Programmable Intelligent Control System: 30A Controller+Display+Brake+Throttle+PAS+Alarm
$138.99
$289.99
saving
$151.00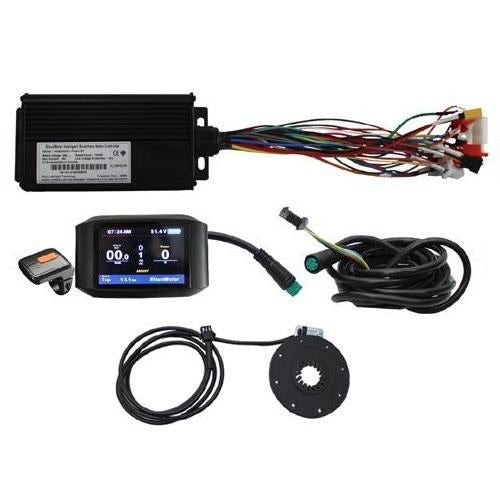 Electric Bike 36V 48V 60V 72V 750W-1500W 30A Ebike Programmable Intelligent Control System: 30A Controller+Display+Brake+Throttle+PAS+Alarm
$138.99
$289.99
saving
$151.00
36V 48V 60V 72V 750W-1500W 30A Ebike Programmable Intelligent Controller System Kits: 30A Controller+Display+Brake+Throttle+PAS+Alarm
Package Includes:
1. 12 MOSFET 30A 36V, 48V, 60V, 72V Universal Voltage 750W-1500W Intelligent Programmable Controller
2. 36V, 48V, 60V, 72V Full color TFT RSM-750C Display (with 5-level PAS, Speed Limit, Speed Display, Voltage Selection, Start Mode, Regenerative Braking Function)
3. Risunmotor RM-D700 Hydraulic Disc Brakes, cut off power
4. Twist Throttle
5. Pedelec Assistant Sensor/8 Magnetic PAS Drive
6. Alarm
Attention:
This controller kit is for normal ebikes, but since the controller is designed for our FC-1 eBike, if your motor can't work properly, please kindly swap Blue and Green wires of both 3-phase and Hall Sensor (Yellow wire doesn't change).
Your Battery BMS should support max continuous 30A discharge current.